Kurtka ALPHA INDUSTRIES MA-1 VF NASA czarna 166107 03
Kultowy bomber flyers MA-1, czyli klasyczna kurtka lotnicza w bardziej dopasowanej wersji slim-fit, w ekskluzywnej serii NASA. Skład materiału: 100% nylon
Najbardziej legendarny i rozpoznawalny model kurtki Alpha Industries – kultowy flyers MA-1, w bardziej dopasowanej wersji slim-fit VF, z ekskluzywnej serii NASA z efektownymi naszywkami.
Jest to kurtka lotnicza amerykańskich sił powietrznych, wprowadzona w 1957 roku została klasycznym strojem pilotów, użytkowanym przez lotników US Army przez kilkadziesiąt lat. Do dziś dokonano w niej tylko niewielkich poprawek.
Bomber Alpha Industries MA-1 VF NASA uszyty jest z wysokogatunkowej tkaniny impregnowanej i podszyty ocieplaną podpinką odporną na wiatr. Wewnętrzna pomarańczowa strona wykonana z jaskrawego materiału o wysokiej widoczności, zgodnie z ideą projektantów miała być używana w nagłych wypadkach przez odwrócenie kurtki na wewnętrzną stronę. Zestrzeleni piloci mogli być dzięki temu łatwo zlokalizowani przez ekipy ratownicze.
Kurtka lotnicza MA-1 ze względu na użyte materiały charakteryzuje się dużą odpornością na uszkodzenia i jest łatwa w pielęgnacji. Ponadczasowy krój, walory użytkowe oraz jakość wykonania sprawiają, że flyers doskonale nadaje się na co dzień jak i sprawdza się w extremalnych warunkach. Gwarancja solidnego wykonania to 57 przeszyć w produkcji każdego egzemplarzu kurtki Alpha Industries bomber.
Jak rozpoznać oryginał?
Oryginalna odzież Alpha Industries NASA jest wykonana z najwyższej jakości materiałów. Na wszystkich spodniach i kurtkach znajduje się metka z opisem specyfikacji wojskowej lub informacja dotyczącą kontraktu wojskowego wraz z podanym numerem. Kurtki lotnicze tej firmy w lewej kieszeni mają wszyty znaczek firmowy. Dodatkowo większość elementów metalowych: zamki, napy, ćwieki sygnowane są logiem producenta.
Poznaj bliżej całą kolekcję kurtek Alpha Industries - czytaj na naszym BLOGU.
Instrukcja Mierzenia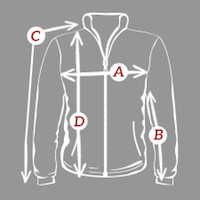 Podane wymiary to wymiary produktu mierzonego na płasko.